Research & Developme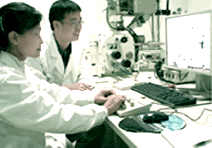 Commitment to innovation propels us forward. Our research and development team focuses on introducing new products while improving our current product portfolio,quality control, testing, process improvement.
Based on market demand, we continue to pursue the development of environmentally friendly chemical products for oil and gas exploration, papermaking and waste water processing. We estimate that environmentally friendly chemicals command a 30% price premium compared to their generic equivalents, supported by stricter environmental regulation in China and increased environmental awareness.

We have also successfully developed pharmaceutical intermediates and will continue our research efforts in this segment to capture a share of this growing market.
Cooperation with prominent academic institutions enhances our ability to pursue targeted research and development of refined bromide compounds and end products utilizing bromine.
45% of our employees have a college degree or higher. All our employees have a wealth of experience in the industry.

We offer chemical solutions for a wide range of industries, including petrochemical companies, power generation companies, paper manufacturers, and pharmaceutical manufacturers.